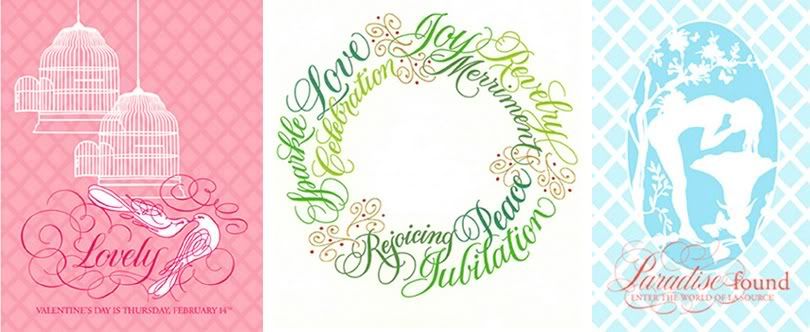 While in Las Vegas for Engage!09 :: The Encore, I had the pleasure of meeting Deborah of Deborah Nadel Design. I introduced myself at the welcome party, and we ended up sharing a bit about ourselves over lunch during the conference. Deborah is a genuine and modest woman. Meeting her was one of the highlights of my trip.

Upon returning home, I followed up with Deborah. I was interested in her work based on the conversations we shared and her out-of-this-world business card. Little did I know what her portfolio included - amazing invitations for lucky brides, lovely lettering which made me sigh in delight and world-class advertisements for Crabtree & Evelyn and Tiffany & Co. I had a chance to ask her all the questions that were on my mind via email after I returned home. I hope you enjoy our Q+A.

How long have you been doing calligraphy professionally?
A little over 20 years.

What got you interested in starting your the business?
I was an art director at an advertisement agency and designed a brochure for a client that had hand drawn headlines. I did the mock-up headlines, thinking we would hire an artist to redraw them, but the client was happy with mine. I started learning more about calligraphy and letter forms, taking classes at the New School in New York and also joined the Society of Scribes.

I thought this could be interesting work that I could do from home, allowing me to spend more time with our daughter, who was two at the time. Eventually, I was able to do just that. For a long time, I focused on calligraphy and some commercial lettering. Then I designed a Bat Mitzvah invitation as a gift to my friend's daughter and voila! my invitation business began. Currently, the three areas of work - invitations, commercial lettering and calligraphy - keep me busy, but I feel that it's a great mix for me.




What is your favorite color ink to use?
Gold. I custom mixed a nice antique gold for a recent project and it worked really well. It was on Crane's pearl white paper and the letters just flowed!

How many different types of pens do you use?
I use two different pen holders, one straight & one angled, and an assortment of pen nibs. I use the straight holder with broad edged nibs for book hand or italic style writing and use the angled holder with pointed nibs for the more flourished copperplate scripts. The angled holder helps maintain the steeper angle of the script letter forms.

What is the most elaborate project you've worked on to date?
Two projects come to mind...



Invitations
This one, above, had a lot of decorative elements working together: flourished calligraphy, ribbon corners, floral background layer, pearlized pocket folder with ribbon and gold embellishment. It required quite a bit production time - a labor of love! I love how it turned out.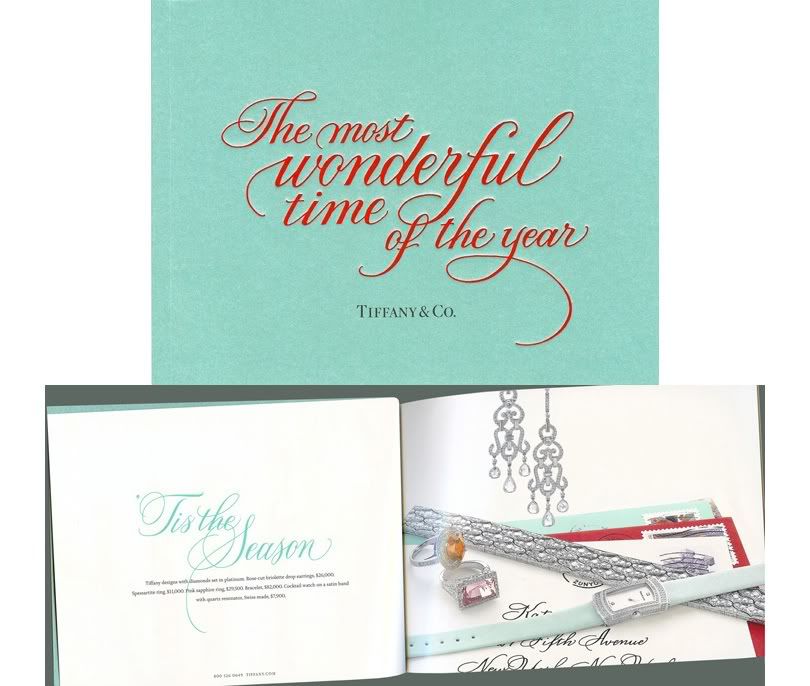 Commercial Lettering
I worked on a holiday advertisement campaign, above, for Tiffany & Co. that started as a few hand lettered headlines for newspapers in Japan. It expanded to include United Kingdom and United States newspapers, with more headlines. Then, magazine ads, bus kiosks, web, in-store displays and a really nice mailer with lettering throughout. It kept me busy for months and was very exciting to see my work in so many places at once!





What is your favorite letter to write?
I especially like to write W and Q in script - they both lend themselves to some pretty flourishing. In a recent Tiffany & Co. project, I worked with some other letters that were also fun to flourish.

How do you and your husband enjoy spending a work-free day?
We will visit our daughters - Sheahan, who lives nearby in Long Beach and Corey who lives in Manhattan, attending Fashion Institute of Technology. Actually, we all enjoy spending time in the city and look for any excuse to be there - shopping, looking at art, eating!

In addition to spending time with our daughters and in New York City, I enjoy gardening, reading, going out for coffee (a lot!), and visiting with friends...that pretty much covers it.