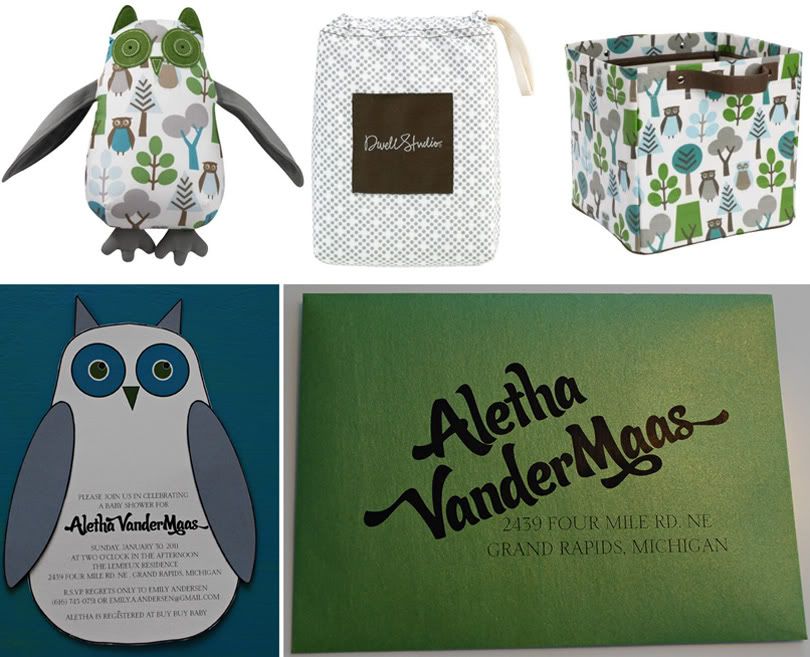 After being in the Michigan wedding industry for the last 3.5 years, I've made some pretty fabulous friends. One of those happens to be the insanely talented Tifany Wunschl of Gourmet Invitations, based out of the Metro Detroit area. Her design work is amazing and I cannot rave more about her attention to detail and creative ideas.

Her work is no stranger to the Pearls Events blog. You may remember the art-inspired wedding photo shoot I shared in September, and if you're a seasoned follower, you may remember the Q&A I did with Tifany featuring this amazing black & white wedding back in 2008.

When Tifany offered to create invitations for my baby shower, you KNOW I jumped at the chance to see what she would dream up. Tifany worked with my friend Emily, who will be hosting all of my girlfriends in the coming weeks, to design the perfect invitation based on the elements from our nursery. We are doing gray & white polka dot bedding, with the owl pattern from Dwell Studio scattered throughout in the form of Roman shades and toy bins.

When the invitation arrived in the mail last week, I was absolutely smitten. And if you've been following along with my slight owl obsession on Life on Louise, you know how perfect this is for me!

A HUGE THANK YOU to Tifany of Gourmet Invitations for these beautiful invitations! I cannot wait to celebrate with all of my girlfriends.

If you're in the process of starting to think of design elements for your wedding invitations, look at other elements you'd like to work into your overall design and go from there. It doesn't have to be as matchy-matchy as this, but having a cohesive look can be as easy as coming up with a color palette and sticking to it.